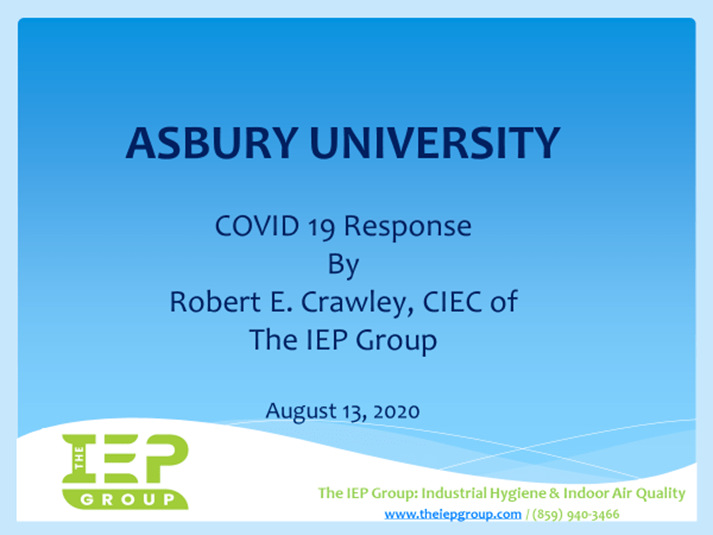 On August 13, 2020, Mr. Robert E. Crawley, CIEC of The IEP Group, presented a COVID 19 Response training for the environmental services personnel of Asbury University in readiness for the return of the student body, professors, staff, and workers. The purpose of this presentation was to provide a clear and safe response plan when there is a positive test for COVID 19.
What exactly are SARS, CoV, coronavirus, and COVID 19? These are a few of the terms that were discussed during the presentation. Then a response plans with a concise and detailed outline of steps for positive COVID 19 cases was introduced. The appropriate use of PPE (Personal Protection Equipment) was discussed, and employees were taught when and how to use each type. Attendees also learned the difference between cleaning, disinfection, and sanitizing and the proper procedures for such, which includes verification (provided by The IEP Group and confirmed by laboratory analysis) that the room and contents are 'clean'.
So how do you protect yourself or your employees while ensuring that the virus itself has been removed? And when you bring others back into the affected space? The IEP Group response training can help you answer these questions and more. We can work directly with your cleaning staff or with a hired cleaning company.
Environmental sampling is available for SARS-CoV-2 and for CoV (general).
2-day and 1-day analysis is available.
PCR = Polymerase chain reaction is a method used to rapidly make millions to billions of copies of a specific DNA (or RNA) sample by amplifying a specific sequence of a host DNA.
Contact Robert E. Crawley of The IEP Group for an evaluation and development of a personalized response for COVID 19.